When Kat Lavers moved into The Plummery in 2008, the run down old house required substantial repairs but was well-located with plenty of potential.
She wanted to design and implement a permaculture system and experiment with urban food production strategies.
With the help many residents, friends and WWOOFers, the Plummery continues to evolve as a demonstration of urban permaculture.
Despite the house being poorly aligned for passive solar gain, a number of simple retrofits have created a comfortable, livable space with minimal energy use.
These include pelmets and heavy curtains, a retrofit greenhouse on the northern wall, 'bubble-glazed' windows, insulation and gap sealing, ceiling fans, skylights and whitewashing walls for natural light, a drip-dry storage rack above the sink and a compost toilet.
The old gas heater has been replaced with an efficient slow combustion wood heater. Firewood is salvaged from hard rubbish and offcuts bartered from a local business.
The thermal mass of the earth-plastered recycled brick hearth stores heat for slow release overnight into the room.
The heater is also used for cooking, boiling kettles and drying produce.
A clothes drying rack constructed from part of a scavenged baby cot is hoisted using pulleys into the warm air pocket near the ceiling to dry clothes quickly in winter.
The old shed has been converted into a light earth studio. The walls made use of onsite clay and all other materials besides sand, straw, fixings and roof insulation were reused from the original shed or scavenged from hard rubbish and the local demolition yard.
The earth render contains local grass clippings which provide tensile strength and were fermented for extra strength, and the timber is naturally finished with gum turps and raw linseed oil.
All existing ornamental trees and shrubs were felled and mulched to provide light, biomass and space for fruit and nut trees.
A single large cherry plum remained, which has been regrafted and trained to a shade canopy that produces an abundance of delicious blood plums.
In response to space constraints, Kat trades homegrown persimmons for an annual supply of pumpkins, and buys a bag of potatoes every year. Almost all other herbs, veg and fruit are grown onsite. Gifting and swapping with family and friends adds extra variety to the diet. The garden emphasizes highly productive, resilient fruit trees and perennial vegetables like wild rocket, perennial leeks and bunching onions that thrive with minimal maintenance.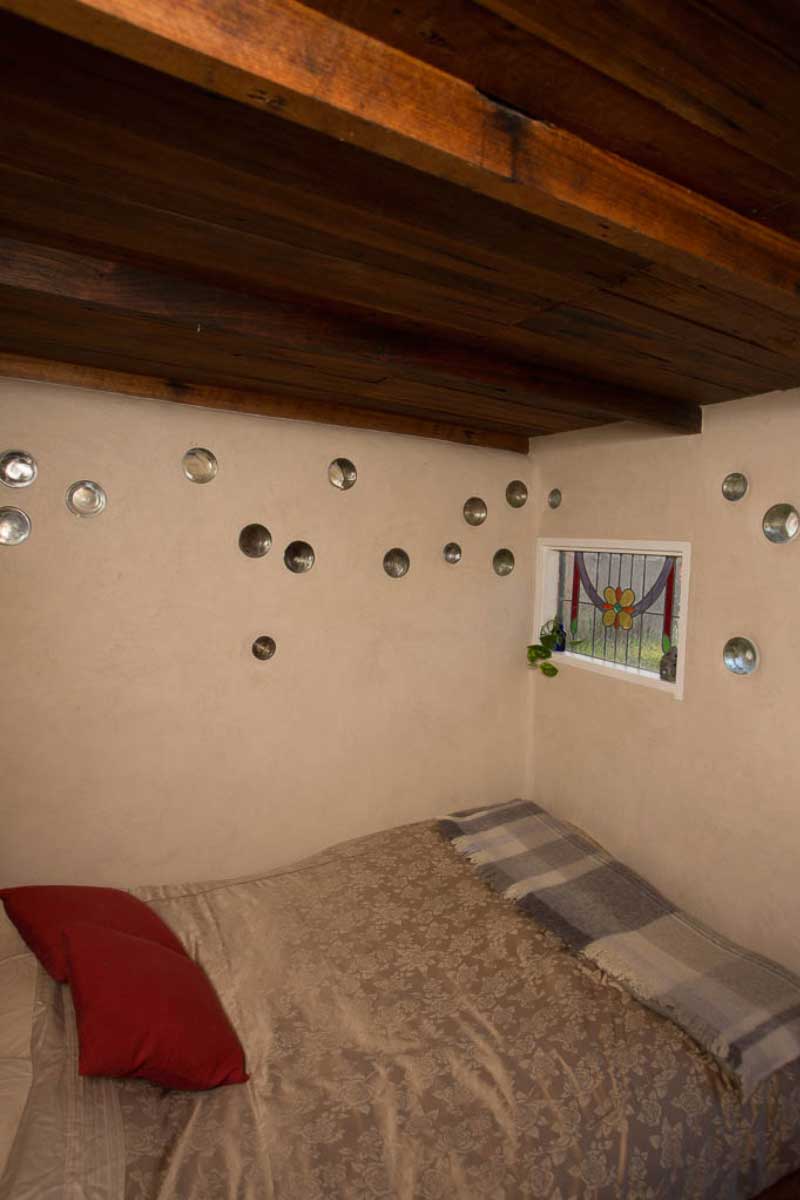 In 2018 the site recorded 428kg of fresh produce, a figure which the household believes could ultimately grow to around 500kg when the full design is implemented. About half this produce is from the 20m² kitchen garden (30m² including paths). The garden is maintained with approximately half a day each week, though this is unevenly distributed throughout the season. Surplus is preserved using bottling, drying, freezing and fermenting to supply the kitchen during the leaner months.
A covey of Japanese quails provides the household with eggs and occasional meat. The small aviary has trigger feeders and waterers for easy maintenance, as well as a deep litter floor of thick wood chips and autumn leaves that eventually breaks down into compost for the kitchen garden.
You can see the exact breakdown of all the meat, eggs, herbs + spices, fruit and veggies grown at The Plummery in 2018. You can also read this article by Michael Green for more about Kat's property, or watch this video / article about Kat's quails. Follow Kat's adventures at the Plummery at instagram.com/kat.lavers.
Retrosuburban Real Estate Checklist rating: prior to retrofitting; 129, currently; 186 (5 suns)
Location: Northcote, Melbourne (pop. 23,000 of 4.5m)
Rainfall: 658mm
Soil: Volcanic clay
Build: 1900 timber frame on stumps
2016 Property Value: AU$771 000
Household: 2 residents plus regular WWOOFers
Land Size: 270m²
Floor space: 100m²
Roof area: 112m² + 15m²
Water tank storage: 14,000lt
Mains water use: 173lt per day
Power: 1kW Grid-tied solar. Annual Power exported: 875kWh
Annual Power imported: 968kWh
Av. Power produced: 3.6kWh p/d
Av. Power used: 3.9kWh p/d
Annual Gas used: 9135MJ
Annual Wood used: 1.5m³
Food production: Majority of vegetables, fruit, honey and eggs. 428kg produced in 2018.
Waking hours at home: 73%
Kat does freelance work from home 3 days a week.
Retrofit your Life from the inside out!

Enter your details below to get the free PDF and juicy tidbits via email on how to get the most out of Chapter 25.