Eco Resilience House: A Farmhouse in the Suburbs
The Solomon family moved to their rambling multi-generational home in 1992. They drove around the Eltham area with a 6-week-old baby looking at pokey little 'neat' houses in courts, each with their ducted heating, en-suites and massive garages. The Solomons wanted none of those things. They were looking for a suburban farmhouse with generous-sized but basic rooms, established fruit trees, a bit of land and a northerly aspect. They found it in Research: a basic comfortable house 25 km from the centre of Melbourne on two thirds of an acre of land adjoining an 8-acre reserve with a playground and bushland.
The north-facing house was built by a homesteader family with 5 children in the early 1960s. It featured:
two cellars, one accessed through a trapdoor in the kitchen and another boasting carefully constructed shelving and power points, and a large enclosed space under the house (with two weaving looms!)
 solid fuel heating and cooking (Everhot controlled combustion range with hot water jacket linked to an off-peak electric HWS, and a Jøtul rocket stove in the lounge room) – with 3-years' supply of firewood and a spare set of firebricks for the Everhot!
 a well-ventilated kitchen with shelving and hooks in all the right places
a bathroom featuring a 1 x 2m stainless steel shower base, just deep enough to bundle 5 kids into for a shared 'bath' when the plug was in
Best of all was the garden with 28 mature fruit trees, large raspberry patch, and deciduous shade trees over the E and N sides of the house. (Unfortunately six Cypresses on the Western boundary had been planted too far to the north and thus do not provide effective summer shade but create a fire hazard and winter darkness – they are now too large and expensive to remove). Over the years the house has been adapted to accommodate changing family needs and circumstances.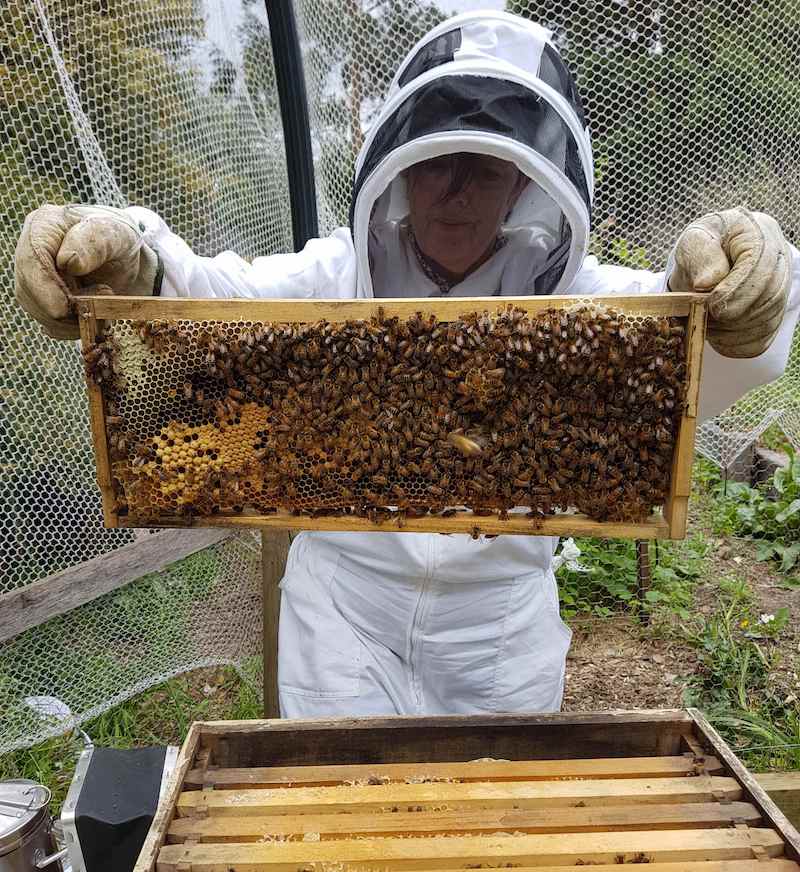 The first ten years: a growing family
Pretty quickly the trials of cooking for a young family using a wood-burning stove in the middle of summer (while also working) got the better of the Solomons and in 1994 they undertook the first renovation.
Two upstairs rooms were combined to form a large farmhouse kitchen with a washing machine under one of the benches. The Everhot wood stove was retained but supplemented by a gas cooktop and oven.
A new bathroom was reconfigured in a hallway space. (The stainless steel shower base was re-purposed as a propagating bench and is about to go to its fourth location).
Bath and washing machine water run to a 60m absorption trench with the Zone 1 veggie garden built over the top. Unfortunately, the aspect on the south side of the house wasn't ideal, but most things could be grown for most of the year.
A small deck was built off the back of the kitchen with a staircase down to the Zone 1 garden.
As the children grew up more changes were made:
Carport enclosed with strawbale walls and recycled windows to make a well-insulated, sound-deadening and comfortable kid-hangout with a kitchenette in the workshop space at the back.
The three downstairs workshops converted into low-ceilinged cave-like bedrooms, giving the kids a room each while making way for a craft room/library and study upstairs.
An Aquamax gas hot water service installed, also used for hydronic heaters downstairs with some heat rising up the stairs to the upper rooms.
The downstairs laundry area was repurposed as a second bathroom and the kids decorated the walls of the original downstairs toilet – it sports mermaids and beach scenes to this day.
Throughout the 1990s and 2000s, the Solomons hosted numerous student homestays, WWOOFers, travellers and guests. There was always room and extra hands to develop the garden, new chook and duck systems, espaliered apples (potential for 60 varieties grafted onto 6 trees) and cubby houses.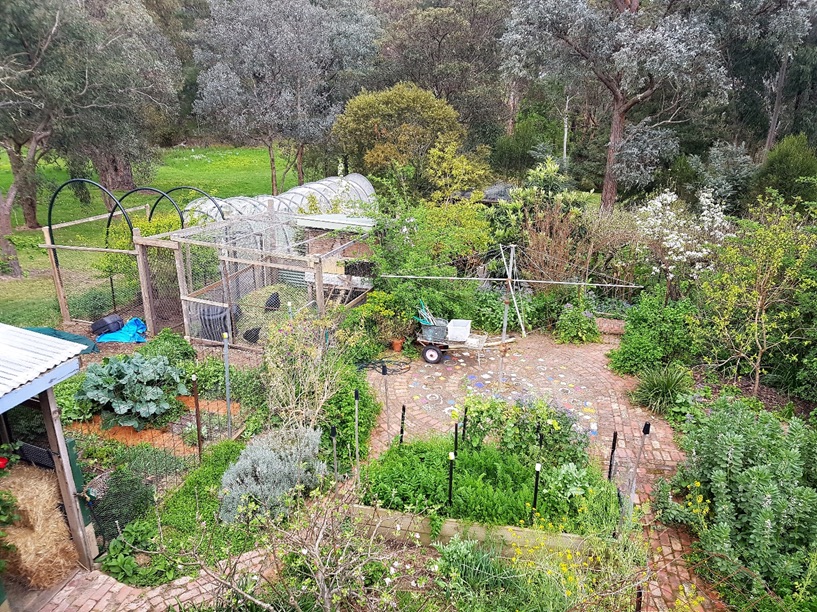 The next ten years: the extended family
The next major renovation was carried out in 2006 to enable Virginia's elderly parents to join the household. This was an energy-efficient, wheelchair accessible extension with a living room, study, bedroom and en-suite bathroom, which became known as the Paris End (so-called by Virginia's mother who saw her tidy, art-filled apartment as a haven of sophistication compared to the chaos of the "Bombay End" through the connecting door).
Timber frame build with Hebel panels for the external walls and the floor, and a double-glazed window to the South; remaining windows single-glazed with insulated blinds; roof and wall spaces insulated with R3 glass fibre insulation.
Old kitchen wall demolished, and new kitchen constructed between the original house and the Paris End providing a central hub for food preparation and shared family meals; construction of a cool cupboard drawing air from one of the three underground cellars (including a wine cellar and a cheese-maturation space).
10,000 litre water tank collects rainwater from the extension and stabilises the temperature in the bedroom above; this water is available for firefighting if required with a fire pump and hoses long enough to reach around the house and outbuildings.
3.1 kW grid-connected solar power system and gas-boosted solar hot water system servicing the whole house.
A 25,000 litre above-ground water tank at the bottom of the block collecting rainwater from the main house and overflow from the basement tank.
Everhot stove retained with its water jacket connected to the copper tank of the original electric hot water system to run a loop for a hydronic radiator for airing and drying clothes and supplementary heating in winter.
Zone 1 veggie garden rebuilt, including a new greywater system providing filtered garden water through drip-lines.
New decks forming outdoor rooms with dining and seating areas, a BBQ and wood fired pizza oven; shaded in the summer by the two mature Pin Oak trees and surrounded by a herb garden.
Adapting to the future: aging in place
By 2018 the house had grown to almost 400m 2 of living space in three separate living areas:
The main upstairs space is where Virginia and Stephen (and dog Mali) live and host their grandson 2 days a week.
The downstairs space with its bedrooms, kitchenette, studio-sunroom, bathroom, toilet and cellar is currently inhabited by a young border and her dog; this space could easily accommodate a small family in the future. (One of the downstairs bedrooms, opening directly into the garden through French doors, is currently used as a guest room, WWOOFer accommodation and a cool summer bedroom.)
After Virginia's mother's death and her father's move to be closer to friends and social life, The Paris End is now on short-term rental and is often used by guests and family. It may become a permanent home for someone again in the future.
In addition, a separate green-roofed studio provides an outside creative space. The garden continues to evolve and adapt to changing needs. The current garden includes:
Main Zone 1 vegie garden providing the households with seasonal vegetables and herbs. 
Front garden with espaliered apples, olive, hazelnut, quince and citrus trees; back garden with a large fig tree plus apples, pears, persimmons, tamarillos and nashi trees. Keeping the birds at bay is an ongoing issue; an anti-aviary netted orchard along the southern boundary provides apples, apricots, peaches, plums and cherries.
Raspberries at the bottom of the back garden yield 1 kilo or more of raspberries per week in season. These are fed partly by mulch-pit paths that use some compost from the 10 cubic meters of oak leaves generated each autumn.
The chickens produce eggs and an efficient composting, pest control and weeding system and the beehive at the bottom of the netted orchard provides pollination services. Virginia and Stephen are grandparents now and would like to share their abundance and knowledge in exchange for the energy, strength and skills of younger people. The funny old farmhouse in Research hasn't finished with us yet!
Retrosuburban Real Estate Checklist rating: Original property 166, currently 210 (6 suns)
Location: Research (25km from Melbourne CBD), Victoria
Rainfall: 660 mm (2017)
Soil: Cultivated loams over mudstone
Build: Original Build: The upstairs portion of the original house (built 1964) has timber frame, a combination of rendered stucco or Mount Gambier limestone walls. Downstairs portion has double brick or rendered straw bale walls. Single glazed windows, with 900 mm overhanging eaves. R5 glass fibre insulation in roof space. Build: Passive solar, self-contained extension (built 2007), designed to be wheelchair accessible has timber frame, Hebel panel walls and floor, with double glazed window to south. Remaining windows are single glazed with insulated blinds. R3 glass fibre insulation in roof and wall space.
2019 Property Value: AU$~1.2 million
Household: Upstairs, 2 adults + occasional WWOOFers. Downstairs, 1 adult + occasional family. Extension, usually 1 to 2 adults, family or guests.
Animals: 
Land Size: ~2800 m2
Floor space: 380 m2 across three areas (Upstairs 130 m2 , downstairs 150 m2 , extension 100 m2 )
Roof area: ~300 m2
Water tank storage: 36,000 litres
Tank water use: Up to 10,000 litres per month in summer to berries, orchard and front garden
Mains water use: Avg. ~300 litres/d household use with ~30% to grey water system. Up to 2000 litres/d in summer to supplement watering of the garden.
Greywater: 
Power: 3.1 kW Grid connected solar (to be upgraded with additional solar panels and battery storage in 2018)
Annual Power exported: Avg. 2.4 kWh/d, Total 864 kWh in 2017
Annual Power imported: 14.8 kWh/d, Total 5380 kWh in 2017
Av. Power produced: Avg. 7.1 kWh/d, Total 2580 kWh in 2017
Annual Gas Used: Avg. ~80 MJ/d cooking and hot water. Avg. ~550 MJ/d hydronic heating in winter
Av. Power used: Avg. 17.1 kWh/d, Total 6242 kWh in 2017
Annual Wood used: ~ 2 m2 per year sourced from property
Food production: Seasonal vegetables, fruit, berries, eggs, honey
Waking hours at home: 60% (Two adults are retired, the third works full time)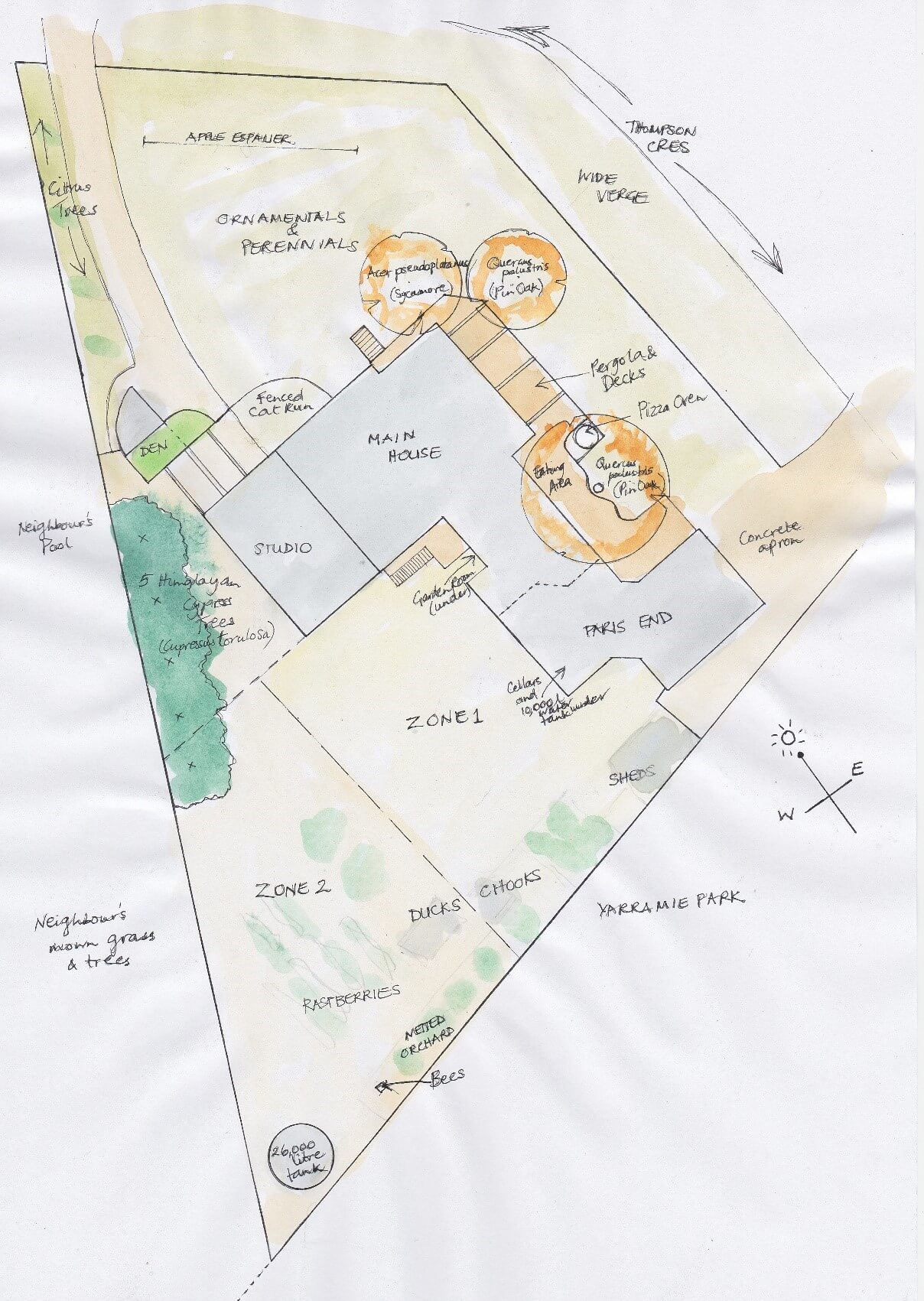 Retrofit your Life from the inside out!

Enter your details below to get the free PDF and juicy tidbits via email on how to get the most out of Chapter 25.