Just what is it? It's an alternative infill development, an urban farm, a demonstration sustainable house, an educational opportunity, a community hub and most importantly – a benevolent dictatorship!
We bought our new home at 16 Livingstone Street in April 2013. The 1970's Italianate house sits on a quarter acre surrounded by subdivided blocks – instead of bulldozing the house to build two big houses, we wanted to try something different.
Housing
Our basic goal is to provide smaller living units for people, housing between 5 and 8 people permanently and 2 people short term. We now have four separate living spaces, all with independent living, dining and bedroom areas as well as bathrooms and kitchens. The units share a laundry and there is also a separate communal kitchen and dining area. All these units have Noongar (local indigenous) names.
Warden (ocean) is a single room studio apartment. Moveable book cases and wardrobes mean the space is flexible. A special bed with plastic storage tubs on wheels underneath, plus a well-designed kitchen located in the previous hallway mean the 37m² space works well.
Ngardak (underneath) has been created by dividing the triple garage space into a one bedroom apartment. Moveable soundproof walls separate the living space from Tim's workshop next door, and this plus the installation of a commercial kitchen allows for the possibility of using the space as a classroom in the future. A funky semicircular shaped bathroom dug into the limestone caprock is a feature of this 45m² apartment. 
Boodjar (earth) has been created from an outside workshop. The room is 34m² and has a small kitchenette, indoor bathroom and outdoor shower. An 18m² insulated waterproof undercover area extends the useable space. The unit maximises northern light with large sliding doors opening directly onto the goat and chicken pen.
Koolark (home) is our place, and consists of an 18m² bedroom and clothes storage area, a small bathroom and a 51m² office, kitchen, dining and living space. Koolark is in the middle of the house but the clever removal of roof space and the installation of a solar pergola allows northern light to penetrate onto the concrete slab in winter.
Moortung (extended family) is the common shared area of the house, consisting of the front verandah, side kitchen and dining area (66m²), small storage area and laundry (with shower and loo). A full height loft provides a space for airbnb guests, WWOOFers and other short term visitors. This space faces north with 6m² of sliding doors and a large pergola there is good northern light and heat control.
Community
The small community that has been created here is one of the highlights for us. The residents at Ecoburbia would not normally live in the way they do. To start with it is rare for two people in their 20's, one in their 30s, one in their 40s and one in their 50s so live in such close quarters. Meals are often shared but there is no formal roster, rather a simple text message just before dinner plans are made. Everyone is welcome to the 11am cup of tea and 2pm lunch break. We often laugh that it is somewhere between Melrose Place and Seinfeld with an alternative shared kitchen. Visitors comment on the casual nature of the community relationships, but so far it is working well.
Ecoburbia continues to run it's famous monthly movies over summer, but we now have a purpose built outdoor movie area created from the tiered front garden.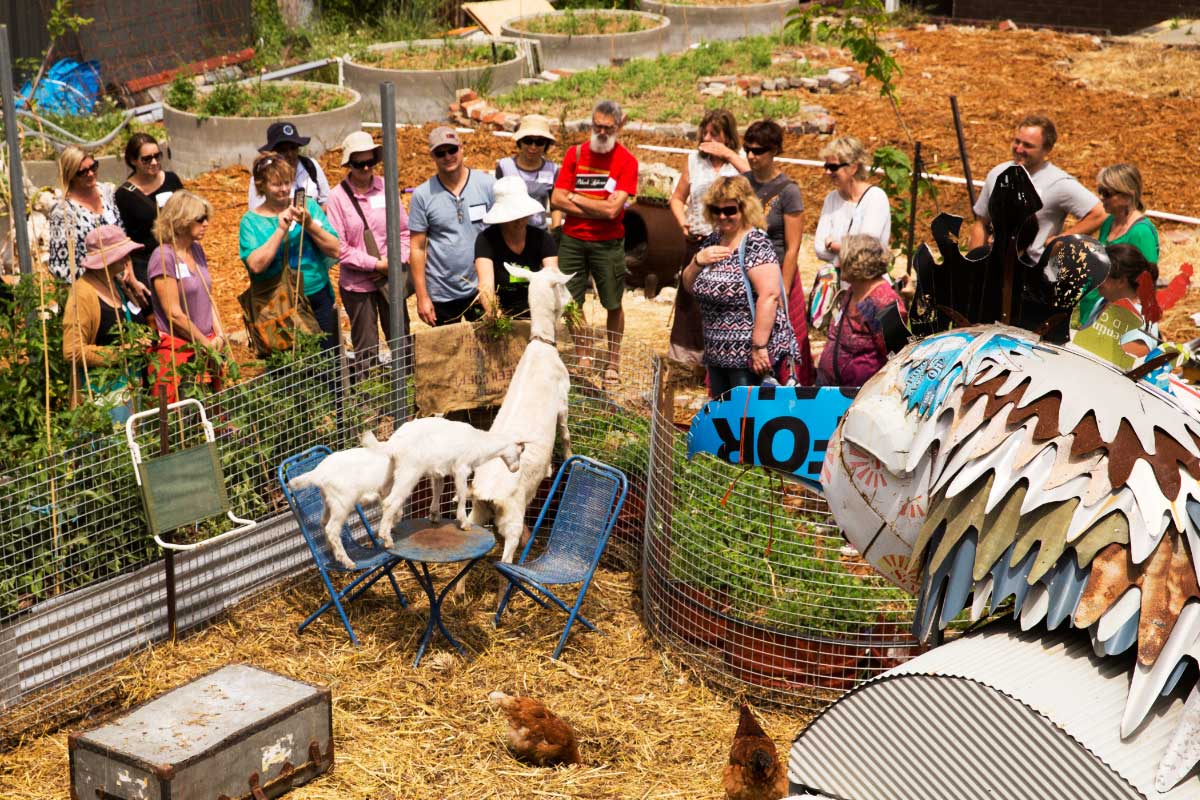 Food Production
By organising smaller housing units, we have about a large area left for garden. Currently the front garden is planted with herbs and veggies that are shared with the household and other neighbours. The back garden has five 7 meter by 1.2 metre curved beds for more intensive plantings, plus 14 citrus and deciduous fruit trees. Our northern verge has been planted out with indigenous species that are also goat fodder.
Our two goats (Whimsy and Little White) share their pen with 12 chickens, and provide us with enough milk for our needs, the making of goat's cheese and some trading of milk. Two other "non residential WOOFERs" trade milking skills for goat's milk.
Water
All residents at Ecoburbia share one large laundry. A greywater pit is on the bottom corner of the property and the pump system ensures all the fruit and nut trees are well watered. We have installed a bore which services the toilets, laundry and the gardens.
The rainwater system proved to be a major project. We installed a 50,000 litre concrete rainwater tank underground at the front of the block (no mean feat when the heavy machinery had to dig into caprock).
Tim estimates that with five people living here, with a daily water use of 50 litres, we should be able to survive 100 days with no rain, essentially taking us "off the grid" in a typical summer.
Power
The main house has had a large 7.5kW solar array installed. Although we only have a 5kW inverter facing panels on the east, north and west we have a smoother production pattern over the day.
Two evaporative tube hot water systems serve the needs of the main house and boodjar, without the need for back up heating.
The living spaces with northern aspect should not need heating, but south facing warden and ngardak have both had wood fired pellet heaters installed. Low tech power saving initiatives include solar ovens, cookers and food driers available for residents' use. There are no televisions and one computer modem services all residents. In the future a battery bank will ensure the house is "off grid". We are also looking at miro steam generation.
Transport
There is no parking available on the property, except for one spot for the shared electric ute. We do however have 20 bikes for the five residents including electric bikes, road bikes, mountain bikes, commuter bikes and an extra cycle…
Financial Sustainability
We recognise that high density housing, close to good public transport options is a more sustainable way to live, especially if small houses, fewer parking bays and communal sharing of resources mean that more land can be used for urban farming.
But that is not the only reason for having rental accommodation on our property – we are realistic about our financial sustainability as well. We hope that once Ecoburbia is fully established the income from renting the various accommodations, coupled with our reducing living costs, will enable us to spend less time worrying about income and more time doing the sustainability work we love doing in our community.
 We are looking forward to being able to more fully integrate our home and "work". We like the idea of retirement being the freedom to do whatever work we like without having to worry about the money involved. We want to be able to age in place.
In summary
Sometimes we are asked what we are up to by someone who really does not have time to hear the whole vision. To these people we usually say something like "It's a bit like a combination community garden/ housing cooperative." The main difference however, is rather than being run by a committee with long meetings and consensus decision making.
Ecoburbia is run by benevolent dictatorship – even if there is sometimes disagreement who that is! Visit ecoburbia.com.au for more.
Retrosuburban Real Estate Checklist rating: prior to retrofit 148, current 222 (6 suns)
Location: Fremantle, Perth, Western Australia. (pop. 30,000 of 2m)
Rainfall: 705mm
Soil: Calcareous sandy loam built up  over limestone bedrock
Build: 1972 double brick
2016 Property Value: AU$1.25m
Household: 5 to 8 people + 2 short term in 4 independent living units
Land Size: 1003m²
Floor space: 260m²
Roof area: 286m²
Water tank storage: 50,000lt
Tank water use: 250lt per day
Bore water used for irrigating veggies, trees irrigated with greywater.
Mains water use: lt per day (to confirm)
Power: 7.5kW Grid-tied solar. Annual Power exported: 8760kWh
Annual Power imported: 3920kWh
Av. Power produced: 32kWh p/d
Av. Power used: 18.7kWh p/d
Annual Gas used: 1kWh (to confirm)
Annual Wood used: .5m³ pellets
Food production: 15%
Waking hours at home: 63%
Retrofit your Life from the inside out!

Enter your details below to get the free PDF and juicy tidbits via email on how to get the most out of Chapter 25.