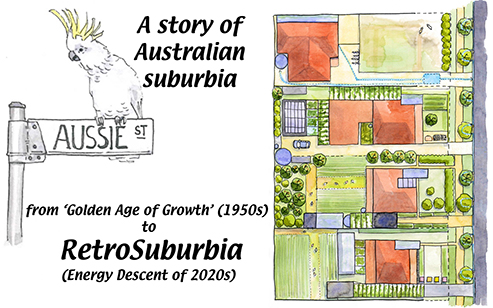 Date
Jun 11 2019
Expired!
Retrosuburbia: Aussie Street with David Holmgren
Join us for an engaging conversation with permaculture co-originator David Holmgren. David will share his Aussie St work and help us understand the vital retrofits to our homes, gardens and, most fundamentally, our behaviours. Afterwards David will participate in a panel discussion with Western Sydney experts, followed by a Q&A. Download the event flyer (PDF, 812.56 KB)
Event Details
When: Tuesday, 11th June 2019 
Where: Hawkesbury campus, Western Sydney University, Bourke St, Richmond NSW 2753.
Venue: Building G1.G.51 (H.A.C Theatre)
Cost: $10 per person and includes a light supper. Ticket sales close on Sunday, 2nd June.
RSVP: Registration is essential (online) prior to the event. Purchase your tickets from our secure OneStop website. Please note that tickets are NOT available for purchased at the door. Seats are limited.
Proceedings: (subject to change)
| Time | Activity |
| --- | --- |
| 3.30pm – 4.30pm (optional) | Walking tour of the permaculture facilities at the Secret Garden and Nursery led by Eric Brocken. Limited to 30 people (book with ticket). |
| 5.00pm – 5.25pm | Arrival. Light supper served. |
| 5.30pm – 7.30pm | David's presentation, panel discussion and Q&A |
| 7:30pm | Event concludes. Book signing available. |
Q&A: We will host a facilitated discussion on the night using some of your pre-submitted questions for David and the panel. If you have something you wish to ask or know more about please submit your questions via email by Sunday, 2nd June.
---
About Aussie Street
David Holmgren, permaculture visionary and story teller takes us back through the decades of our lived history in the streets where the quarter acre hosted the Aussie post war dream, through the decades of rising affluence and additions, aging and infill, permaculture inspired retrofit and on, through a gritty but inspiring and realistic transformation in the Great Depression of the 2020s. Aussie St is a permaculture soap opera, made real by masterful story telling that sounds a warning and clarion call for direct action on the home front. The presentation is also a window into the rich palette of design solutions and tips that Holmgren has explored in in his latest opus, Retrosuburbia; the downshifters guide to a resilient future. Copies of Retrosuburbia will be available to purchase and David will gladly sign any copy at the conclusion of this event, whether purchased at the event or prior to.
Costa Georgiadis from the foreword to Retrosuburbia: "This book is a dance, a tango between our habits and our actions, our visions and our intentions. RetroSuburbia boldly renovates what we know as our safety net and replaces it with an action plan; planning for the worst and hoping for the best. The answers are in the everyday. Let the transformation and retrofit begin."
About David
David Holmgren is the co-originator of the permaculture concept following publication of Permaculture One, co-authored with Bill Mollison in 1978. David is globally recognised as a leading ecological thinker, teacher, respected writer and thought-provoking speaker promoting permaculture lifestyle as a realistic, attractive and powerful alternative to dependent consumerism. Other key publications include Permaculture: Principles and Pathways Beyond Sustainability (2002) and Future Scenarios: How Communities Can Adapt To Peak Oil and Climate Change (2009)and most recently, RetroSuburbia; The Downshifter Guide to a Resilient Future (2018).
---
Getting to Hawkesbury Campus
Car: You'll find us off Bourke St (enter College Drive) or Londonderry Rd (enter Vines Drive). Limited parking is available on site. The closest parking is car park P14. Overflow parking is in P11.
Parking: Park in yellow marked bays only. No parking is permitted on the grass at any time. Fines may apply. Parking is at a cost of $7 at the machines on-site.
Train: Hop off at East Richmond train station. Our free shuttle bus will drop you to and from campus. The closest shuttle bus stop for this event is the Library (G10).
Please note all Western Sydney campuses are smoke-free zones. No smoking of any kind is permitted anywhere on the campus.
---
For further information or assistance please contact the Sustainable Futures team. Please note our business hours are Monday – Friday, 8.00am to 4.00pm.